Lake Cove Pointe in Winter Garden Florida sits on the Southern Side of Lake Apopka. Just about 3 miles to the East is Toll Road 429 and the same distance to the South gets you the Ronald Reagan Turnpike. You will rarely need them unless commuting for work. Everything you need is actually very close to the community.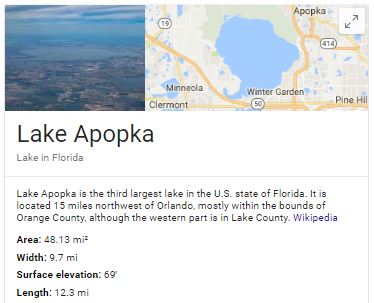 Winter Garden Police Department, Post Office etc are all within 1-2 miles of the Community.
There are a lot of homes around Lake Cove Pointe and with good reason. The Lake is a real lake. It's big. Just about any recreational activity is within 20-30 minutes of you.
The HOA is $627 a year. Which is about average for a gated Subdivision with housing this nice in Winter Garden. Very few homes become available here. So keep your eyes out.
If you are interested in a home. Or you are waiting for one of a specific type to become available let me know. I will set things up where we will both be notified and you can go and see it.
If you are a seller I can do that as well. I am an experienced agent with years of experience and have great customer service. Contact me today through the links on this page. Thanks for visiting and have a great day.